Nylon Secure-Loop Watch Bands
Who is Carterjett?
Carterjett is a small team of artists and creative people. We stay up late discovering and designing original high-quality accessories for your Apple products.
<< We want you to stand out from the crowd and be noticed for the unique individual that you are >>
Nylon
Durable and Comfortable. From the office to the pool, this band covers it all. Available in a wide variety of colors and styles. S to XXL to fit every wrist (and ankle). Tuck and fold Military Style.
SHOP NYLON
Tire Tread
Heavy-duty waterproof silicone. The Tire Tread band is rugged and sporty. A fresh look. Hypo-allergenic and easy to clean. This band can go with you everywhere! Assorted sizes and Colors.
SHOP SILICONE
Leather
Soft leather in unique styles that can be dressy or casual. Doubled layered with edge stitching. Becomes more supple and distressed with time and wear. From Small to XXL.
SHOP LEATHER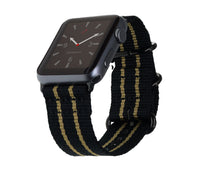 Brand new
Nylon Military-Style Straps
Just released! Fresh new designs to make your iWatch pop. Let us know which ones you like!
Shop New Styles
Smart Watch Bands for your Active Life